Web Development ~ Menu Options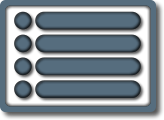 There really are only two menu options for a website, and that is either vertical menus or horizontal menus. Sometimes both can be incorporated into a site development/design to achieve the desired look and feel, as we have done on this page.
During the "Conceptualization" component of our developing process, we will go over which menu option best fits your web site envision. Once a menu option is determined, we then will review the various base styles available for the given menu option.
After the menu style has been determined, we then apply CSS code to achieve the desired color scheme, transitional functions, and more, so the menu blends in, complements, and enhances the overall color scheme of the website..